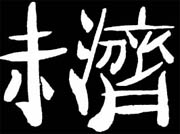 MWOI-TZI "makes no difference," bears no shame.
"The Heart girt with a Serpent" is my Name!
How foolish, fox, to get thy tail immersed!
Restrain thyself; be correct & firm.
The second half's solved solving the first.
Invade the hells -smite the demon worm.
Our Wine, Divine, slakes thy Righteous thirst!
Trust thyself, feast, enjoy the term.
Back to the Square of Hexagrams