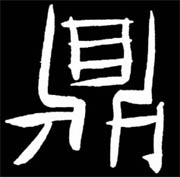 TING's four feet & ears nourish thy caress;
Delicious meals -progress & success!
The caldron's up-turned the position to improve.
The caldron's ready -clamp on the lid & hook.
Change ears, stew & simmer, genially cook.
Level the caldron's overflow with timely look.
Firm-Correctness' yellowed ears approve!
Rings of jade around the handle crook!
TING feeds a chosen, nucleal middle -
Oodles of grub from a cross-eared griddle!
Back to the Square of Hexagrams