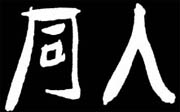 TUNG-YUN's sweet warmth pours from the pure in heart;
Cross then the Stream, Lord of the Magick Art!
"Not I, but Christ in me" shall rule; prepare
Our Wine, the Cana choice -not kin by blood!
Thick grass -high mound- three times the Right declare.
Mounted on city's wall, yet do not dare.
To weep -to laugh, then win- to meet- to share!
The deed be done; thy fame -spread everywhere!
Back to the Square of Hexagrams