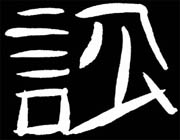 ZUNG plots a pot of luck -a lot
Of eggs without haggling bought!
"Argue not, convert not, talk not overmuch."
"Choose ye an Island" where Our Wine goes round.
Eat of thy old Virtue; karmick prizes clutch.
Hexes erect, expound their Solar sound.
"There is success" -the gods approve the ground!
Stop the contention now -harmony abound.
Back to the Square of Hexagrams