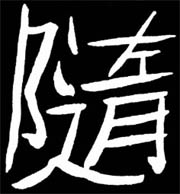 SUI's moving spirit set the lake on fire.
Dark house rejoice! expected event transpire.
Advance beyond the gate to gratify.
The Magick Art perfects the small detail.
Modest, cautious, now thou shalt avail!
Honorable Dragon, Bread of Heaven supply.
Foster responsiveness; Golden Rule apply.
Peace on the Western hill in the castle of the Grail!
Back to the Square of Hexagrams