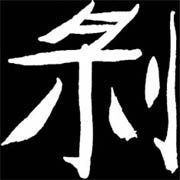 PO strengthens those below, promises peace.
Uplift the fallen; see thy stature increase!
The legs are bent, the couch seems overthrown.
The frame is hurt, but God is on His throne!
The gods are watching, they protect their own!
Joy is built on woe's foundation-stone!
A garland of yellow flowers -all full blown!
Tend thy garden -see thy chariot drawn!
Back to the Square of Hexagrams