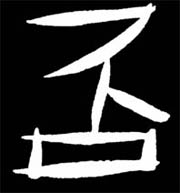 PHI blesses those who gladly give -
Happiness to those with whom they live.
The Earth reflects the Heavens above -thus do!
Let little children teach thee something new.
"For Beauty's sake & Love's" let us be true.
"My joy to see your joy" -bless from afar.
Balanced, serene, not up nor down we are.
"In Thy Name, Christ Jesus, we thank Thee, AUM HA!"
Back to the Square of Hexagrams