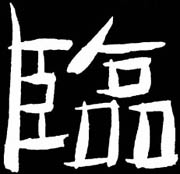 LEEN's magick mirror reflects the astral form;
Big Fire's delightful progress exceeds the norm.
Advance jointly, doing what is right.
Advance together; double-up thy might.
Anxious to advance, well-pleased with the road.
Advancing in the highest style & mode.
Advanced in wisdom, purple staff bestowed!
Honest, generous -soft advance, tip-toed.
Back to the Square of Hexagrams