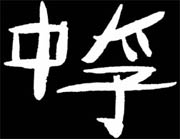 CHUNG-VOO - Inmost Sincerity! -be good!
Take, drink, this is My spiritual Blood!
Chant thy name, Inmost Heart, Love is the bond.
Cranes partake! drink, young cranes & respond!
Thy'! Daimon's met; 'tis Midnight -time to hush.
Thoth speaks to Moses -Love enflames the Brush!
Glow, Holy Grail, gleam in the guileless pond!
O, plumaged voice, quiet! -encase thy wand.
Back to the Square of Hexagrams