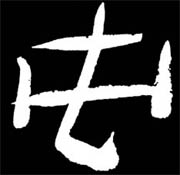 TUN's thunder peals; clouds discharge their rain.
Sort threads of warp & woof & weave thy skein.
"Lurk, withdraw, upon them": zeal & zest!
Thus be the battle about My Mystick place.
Sensing secret risks slackens the chase.
The Silver Star helps thee win thy race.
Hail the Rosy Sun successful in the West!
Chariot reined, else tears rain down thy face!
Back to the Square of Hexagrams