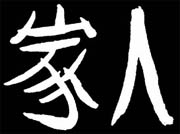 KIA-YUN engenders the wind from Solar fire.
Loyal, active, worthy, discreet -aspire!
Do well thy job, let others do their own.
The meek are blessed, theirs the Starry Earth!
Severity is kind, be stern -a stone!
The conquered self possesses cosmick worth.
The treasure seek inside the closest zone.
Thy gong is gold -ring out the golden tone!
Back to the Square of Hexagrams