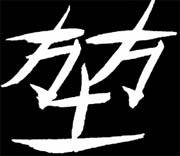 KHWAN doubles the Cube -Big Yin brings
Initiatory Virtue to men & things!
Dancing on dew -later come big rains.
Brilliant results the Way of Earth obtains!
The Servant of the Lord excellence restrains.
The careful sack apples red contains.
Yellow shod the honored spot retains.
Dragons fight; azure & amber stains!
Back to the Square of Hexagrams