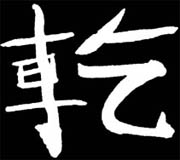 KHIEN is Heaven; the Dragon's Our Friend, the Sage!
Originating, keen, strong to the end, presage!
Deathly still, Dragon, hide in the deep.
In the field, preside; Virtue's harvest reap!
Vigilant as gnomes, be active, even asleep.
In the depth yet, stage the upward leap.
Now fly the sky -crimson comets sweep!
Exceed not -weep not; the Golden mean keep!
Back to the Square of Hexagrams