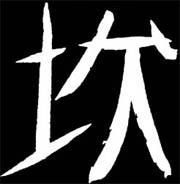 KHAN's overflowing heart & piercing mind.
Dare pit after pit, constant, firm & kind!
In the double defile, Our Friend enters the cave.
Environed with peril, make not yet the escape.
Whether He comes or goes He shall behave!
Wine-bottle & rice-basket -sage & suave.
The Moon's not yet quite full -retain thy shape.
No rest for the wicked -in thorny thicket, thrice-brave!
Back to the Square of Hexagrams