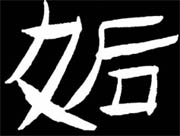 KAW's bestowing Virtue, breath of Heaven;
The Western wind diffuses feathery leaven.
Art tied & fastened to a metal drag?
But wash thy feet & thou art wholly clean!
Limping but upright, tread the Golden Mean.
No meat -no wine- be shaggy, Nazarene!
Thy gold, thy age, thy health & Virtue screen.
Exalted, safe & loyal -be serene.
KAW shows the meeting of the many strong,
With one that's soft, but bold, who struggles long!
Back to the Square of Hexagrams