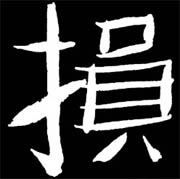 ZUN gives its life to the dwellers of earth.
Sincerity offers grain -two baskets' worth.
Haggle not; use the first Rule of Art!
Present thy offering; purify thy heart.
A few choice words open the inner door!
Glad helpers please thee more & more.
Ten pairs of tortoise shells -luck galore!
"I am the Flame" -to every Star impart!"
Back to the Square of Hexagrams