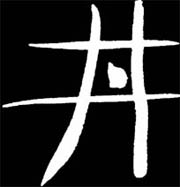 DZING repeats the rules of Virtue's game.
Our Wine animates thy mutual aim.
The wheel's well-oiled, the pail is poised to sink.
Golden Star, guard thy Work of Art!
Twelve times brinked, rest thy panting heart.
Stars in the Darkness twinkle when ye think.
Very Freshness, overflow the cart!
The well's uncovered, thou art free to drink.
Back to the Square of Hexagrams