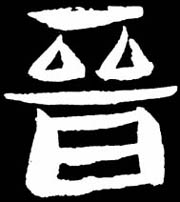 ZIN advances; Ra rise, red Eagle fly,
Lion descend, Beetle make thy cry!
Diana mounts to hunt with open mind.
The King's Mother blesses -thou art kind.
Trusted, hunting Southward, ye shall find.
Enter the Dark land leftward -carry on.
Unconcernedness' fruit hath yellow rind!
Advance! at Daath's peak tarry on.
Back to the Square of Hexagrams