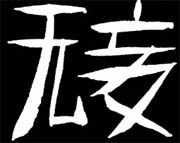 BOO-WHANG declares -in Daath we trust,
The Will of God our only must!
Single thine eye, thy body fill with light.
Heaven-born, thy field's thrice-reaped, unploughed!
Thy Will be done, not mine -my life is vowed.
Firm & correct remain, thy course is right.
Win by the Grace of God, not human might.
Earnest & simple -sincere, sit thee tight.
Back to the Square of Hexagrams