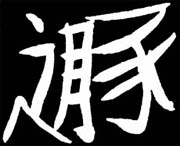 THUN turns away from cheap to take the dear;
"Choose ye the Dove" -see happiness appear!
A Tower of Babel never tops the sky;
For, Love's the Meaning of the Yellow Tie!
Be kind to servants; set them free to serve.
Be self-controlled & patient; keep thy nerve.
Avoid a triumph crude; yet do not swerve.
Let Soberness help to fructify thy verve.
Back to the Square of Hexagrams