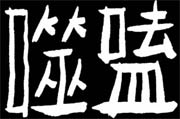 ZHI-GAH gnaws while hallowed Lightning blazes;
Solar Logick thunders, deafens & amazes!
Severe the Ordeals, teach Truth, live the Life.
Noseless, thy flesh is bitten through & through.
The Hieophantick task thrills the chosen few.
Michael's at thy side -strengthen strife!
"Black to the blind" -in Christ 'tis gold & blue!
Dumb & earless, drum &, fearless, fife!
Back to the Square of Hexagrams