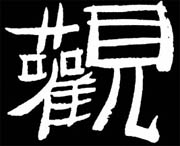 KWAN's pure hands open wide the door -
To the left, up, right, back, down, before!
Thy knees are bent, thy Virtue stands erect!
Thy glance is down, down to show respect.
Thy hands are clasped -Akashick Lords protect!
Thine be the Kingdom! thou the very elect!
Now, Golden Heart, consume thyself in prayer.
Rest, Holy Dove, in the City Four Square!
Back to the Square of Hexagrams