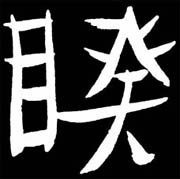 KHWI "division hither homeward" knells;
Love, on marshy feet, chance union spells.
Strong horse, demon-winged, bring back the lost.
Do what thou wilt-!. Daimon, come like frost!
Christ backs the cart -Freedom's home to build.
War-engine! post Lamb's Blood; count not the cost!
Skin-bitten? Thank God! Our Wine's not spilled!
Drown, pig-footed doubts! o, Stream, be crossed!
KHWI, despite an abominable condition,
Yellow-palms abdominal ambition!
Back to the Square of Hexagrams