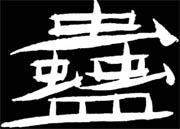 KU transforms the evil into good;
Solves the problems as the Master should.
Thy father's illness healed forms Spirit-Man.
Forgive thy mother -cancel out her lies.
Tame the Tempter -grow so wondrous wise.
Thy will is strong to work determined plan.
The Light in Darkness spreads its Yellow Fan!
Do what thou wilt; hold the precious prize!
Back to the Square of Hexagrams